South Korea (대한민국)
'Üç Büyükler' Erkekler Engelli Yarışlarında Bir Sonraki Tura Geçerken Kendilerinden Emindiler
Erkekler 110 metre engellide 'Üç Büyükler' olarak adlandırılan Dayron Robles, Liu Xiang ve David Oliver pazar günü, devam eden Dünya Şampiyonası'nda yarı finale kaldılar. Finalde ise büyük bir mücadele yaşanması bekleniyor.
Sporcular 110 metre engellide tarihin en hızlı 3 derecesine imza attılar. Sadece 0.02 saniyelik farklarla üçü de kendi en iyi derecelerini kaydetti ve Oliver'ın ardından Liu ve Robles sırasıyla 2 ve 3. oldular.
'hilal'
The so-called Big Three in the men's 110-meter hurdles — Dayron Robles, Liu Xiang and David Oliver — cruised into the semifinals at the ongoing World Championships in Athletics here Sunday, setting the tone for what promises to be a memorable battle in the final.
They hold the three fastest 110-meter hurdles records in history. Only 0.02 seconds separate the personal best marks of these three, and they're also ranked 1-2-3 — with Oliver in the lead followed by Liu and Robles.
28.08.2011-Yonhap
David Oliver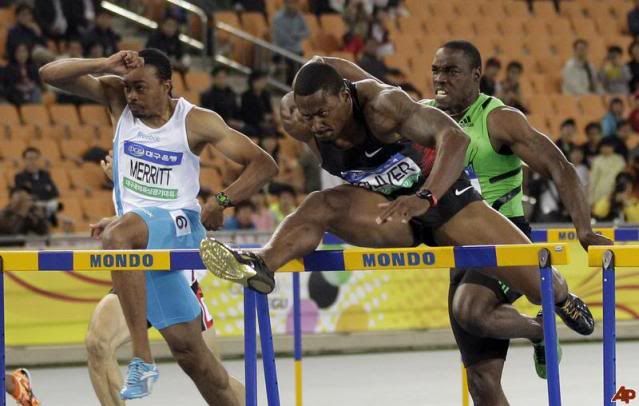 Dayron Robles

Liu Xiang