Save Me Season 2 / 구해줘 시즌2 (2019)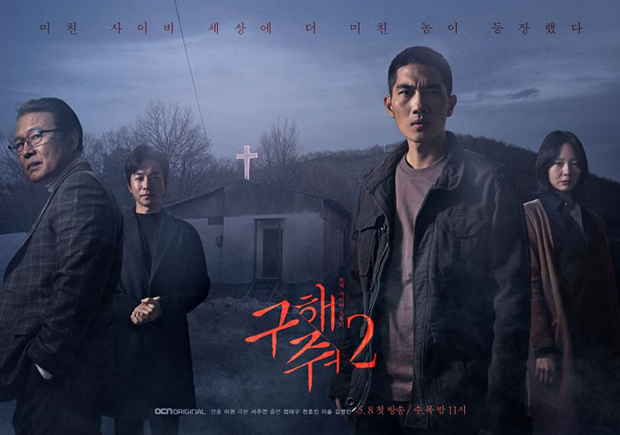 Adı: Save Me / 구해줘 / Goohaejwoe / Rescue Me
Yönetmen: Lee Kwon
Yazar: Jo Geum-San (webcomic), Seo Joo-Yeon
Kanal: OCN
Bölüm Sayısı: 16
Yayın Tarihi: 8 Mayıs - 27 Haziran 2019
Yayın Günleri ve Saati: Çarşamba & Perşembe 23:00
Tür: Aksiyon, Gerilim, Gerilim, Suç
Website: http://program.tving.com/ocn/saveme2/
Dil: Korece
Ülke: Güney Kore



Oyuncular


Um Tae-Goo - Kim Min-Cheol
Cheon Ho-Jin - Choi Kyung-Seok
Esom - Kim Young-Sun
Kim Young-Min - Sung Cheol-Woo
Lim Ha-Ryong - village head
Oh Yeon-A - Jin-Sook
Lee Joo-Sil - Sung-Ho's grandmother
Seo Young-Hwa - Min-Cheol's mother
Lee Yoon-Hee - Yanggyejang
Woo Hyeon - Boongeo
Jang Won-Young - Chil-Sung
Kim Soo-Jin - Chil-Sung's wife
Kim Young-Sun - village head's wife
Kim Mi-Hwa - Hwan-Hee's mother
Sung Hyuk - Jung Byung-Ryool
Son Bo-Seung - Sung-Ho
Jo Jae-Yun - Shin Pil-Koo
Han Sun-Hwa - Madame Ko
Baek Soo-Jang - Soodal



Konusu


İnsanların dini duygularını sömürerek, küçük bir kasabayı kaosa sürükleyen sahte bir dini tarikatı konu alacak. Wolchoori kasabasının sular altında kalacağı açıklandıktan sonra orada mülkü olan insanlara tazminat verileceği duyurulur. Bunu duyan Kim Min-Cheol (Uhm Tae-Goo) memleketi Wolchoori'ye geri döner. Ancak burada kasabanın yerlisi olmayan birkaç insanla karşılaşır ve bir tuhaflık sezer.

Uhm Tae-Goo dizide eski bir tutuklu olan Kim Min-Cheol karakterini canlandıracak. Lise yıllarında umut vaat eden bir judo sporcusuydu. Ancak bir gün, sahip olduğu güçlü adalet duygusu yüzünden bir olaya dâhil olur ve bu yüzden hapse girer çıkar.

Cheon Ho-Jin dizide Wolchoori kasabasında dini bir tarikat kurmaya çalışan Choi Kyung-Seok karakterini canlandıracak. Yüzündeki gülümsemeyle iyi bir adama benzemektedir. Wolchoori kasabasının yabancısı olduğu için ilk başta kasaba halkı ona güvenmez. Ancak tazminat almalarında kasaba halkına yardımcı olunca onların güvenini kazanmaya başlar.

Esom dizide Kim Min-Cheol'un (Uhm Tae-Goo) kız kardeşi olan Kim Young-Sun karakterini canlandıracak. Hemşirelik okumaktadır ve yaşadığı hayatı sevmemektedir. Bu yüzden en büyük amacı, en kısa sürede Wolchoori kasabasını terk etmektir. Bir gün, bir papaz olan Sung Cheol-Woo (Kim Young-Min) ona yaklaşır.

Kaynak
.: English :.
Name: Save Me / 구해줘 / Goohaejwoe / Rescue Me
Director: Lee Kwon
Writer: Jo Geum-San (webcomic), Seo Joo-Yeon
Network: OCN
Episodes: 16
Release Date: May 8 - June 27, 2019
Broadchasting Days and Time: Wednesday & Thursday 23:00
Genre: Action, Suspense, Thriller, Crime
Homepage: http://program.tving.com/ocn/saveme2/
Language: Korean
Country: South Korea



Cast


Um Tae-Goo - Kim Min-Cheol
Cheon Ho-Jin - Choi Kyung-Seok
Esom - Kim Young-Sun
Kim Young-Min - Sung Cheol-Woo
Lim Ha-Ryong - village head
Oh Yeon-A - Jin-Sook
Lee Joo-Sil - Sung-Ho's grandmother
Seo Young-Hwa - Min-Cheol's mother
Lee Yoon-Hee - Yanggyejang
Woo Hyeon - Boongeo
Jang Won-Young - Chil-Sung
Kim Soo-Jin - Chil-Sung's wife
Kim Young-Sun - village head's wife
Kim Mi-Hwa - Hwan-Hee's mother
Sung Hyuk - Jung Byung-Ryool
Son Bo-Seung - Sung-Ho
Jo Jae-Yun - Shin Pil-Koo
Han Sun-Hwa - Madame Ko
Baek Soo-Jang - Soodal



Plot


Residents in a small town fall into a state of chaos due to the presence of a false religious group.

Kim Min-Cheol (Um Tae-Goo) was once a promising judo athlete in his high school days, but, due to his personality with a strong sense of justice, he went in and out of prison. One day, he hears that his hometown of Wolchoori is designated as a an area to be submerged and residents will receive compensation. Kim Min-Cheol goes back to Wolchoori. He sees strangers in the town and feels something weird.

Choi Kyung-Seok (Cheon Ho-Jin) comes to Wolchoori. He looks like a nice man with a smile on his face. The residents don't trust him at first, but he helps them receive compensation and they begin to trust him. Choi Kyung-Seok then tries to set up a religious organization.

Kim Young-Sun (Esom) is the younger sister of Kim Min-Cheol. Her life at home is bleak. She is studying nursing and hopes to leave Wolchoori as soon as possible. Her brother Kim Min-Cheol returns home, but her life is still bleak as usual. At that time pastor Sung Cheol-Woo (Kim Young-Min) approaches her.

Source
D.Mod.
» 01.07.2011
Mod.
» 19.07.2011
Süper Mod.
» 18.08.2011
Koordinatör
» 26.10.2011
Co-admin
» 27.01.2012
Admin
» 24.03.2012
S.Admin
» 30.11.2012